Netflex was weer aanwezig bij Microsoft Ignite dit jaar, zij het wat in een andere hoedanigheid. Normaliter zouden we afgereisd zijn naar New Orleans, om daar al het nieuws dat Microsoft en haar partners ons te vertellen hebben te horen. Maar i.v.m. de wereldwijde Corona-problemen is het event dit jaar digitaal.
Dit betekent 3 dagen vol met sessies, on demand of live, maar ook Meet the Experts en de mogelijkheid om digitaal over de Expo te lopen, zodat tóch ook dat contact met andere vendoren onderhouden kan worden. Ik moet zeggen dat dit wel heel anders is dan daadwerkelijk aanwezig zijn. Ik vind het leuker en interessanter om met een persoon te spreken, dan om digitaal wat vragen af te vuren en verwezen te worden naar een demo op het internet i.p.v. een live demo te kunnen volgen.
Keynote
Zoals elk jaar begon ook dit jaar Ignite met de keynote van Satya Nadella. De titel was dit jaar "Building Digital Resilience". Een highover sessie van 60 minuten waarin o.a. het volgende werd besproken:
Microsoft flight Simulator Next
Een filmpje over Flight Simulator, hoe het ooit begonnen is in 1984 en hoe de nieuwe versie eruit ziet. Grafisch ziet het spel er erg mooi uit, alsof je er echt overheen vliegt. Erg mooi gedaan. De nieuwe versie van Flight Simulator zal dit jaar uitkomen. Zie hier voor screenshots: t.ly/9bhv
Er zijn nu 61 datacenters wereldwijd en er komen er meer aan.
Azure Arc is nu beschikbaar. Met Azure Arc kan je elke infrastructuur (on-premise Microsoft Cloud, Amazon Cloud etc.) managen met Azure. Ook is het mogelijk om monitoring en reporting te doen op deze omgevingen. Azure Arc kan zonder extra kosten ingezet worden, zie de aankondiging hier: https://t.ly/1hh4
Azure Api Management for Powerapps in Teams is aangekondigd.
Nu nog in preview, Power Automate Desktop. Power Automate Desktop kan on-premise applicaties op de desktop en in de webbrowser automatiseren. Voor meer informatie: http://t.ly/d94U
Microsofts browser Edge komt beschikbaar voor linux in oktober.
Microsoft Teams krijgt nieuwe updates, zoals 49 personen in 1 view in video meetings. Met "Together mode" is er de auditorium view en nu met chat bubbles, waardoor je extra discussies kunt creëren tijdens een sessie.
Er zijn ook nieuwe Microsoft Teams Room Devices: https://rooms.microsoft.com/
Alle aankondigingen in 1 document
Net zoals voorgaande jaren heeft Microsoft van alle aankondigingen een overzicht gemaakt in het "Book of News". Dit jaar is er een digitale versie van het "Book of news" met alle aankondigingen:
Sessies
Naast de keynote en een aantal standaard live sessies – die allemaal terug te zien zijn op Youtube: http://t.ly/QWbh – waren er natuurlijk ook de normale sessies te volgen.
Wat highlights:
Teams Templates
Het wordt mogelijk om Teams aan te maken aan de hand van templates. Gebruikers kunnen zelf kiezen welke template ze willen gebruiken of beheerders kunnen templates aanmaken:
Er komt een betere zoekmogelijkheid in Teams en meldingen wanneer een bestand verplaatst is. Zodat dat bestand waar je vorige week nog in werkte, maar door je collega verplaatst is naar een ander Team/Site, weer gemakkelijk terug te vinden is.
Azure Arc
Azure Management voor Windows en Linux servers, SQL servers en Kubernetes Clusters in zowel on-premise datacenters als multicloud, dat is Azure Arc. Vorig jaar aangekondigd, maar dit jaar verder uitgebreid. On-premise en Multicloud servers kunnen nu beheerd worden vanuit Azure alsof het Azure Devices zijn.
Azure Arc is gratis te gebruiken voor iedereen die al een Azure subscription heeft. Er is geen VPN nodig, een simpele verbinding voor de Azure Arc Agent op poort 443 is voldoende.
Dit is inclusief inventory, organiseren van servers in hiërarchie en queries op inventory en servers. Daarnaast is het mogelijk om tegen betaling gebruik te maken van het Azure Security Center, Azure Monitor en Update Management. Azure Arc-enabled Kubernetes en Azure Arc-Enabled SQL server zijn op dit moment nog in public preview.
Exchange
Microsoft heeft aangekondigd dat de volgende versies van Exchange Server, SharePoint Server, Skype For Bussiness Server en Project Server vanaf de tweede helft van 2021 beschikbaar komen. Deze zijn alleen beschikbaar door aankoop van een subscription. Voor Microsoft Office zal er ook een nieuwe versie verschijnen in de tweede helft van 2021.
Microsoft adviseert om wanneer mogelijk naar Exchange Server 2019 te migreren, waarna er een in-place upgrade mogelijk is naar Exchange Server vNext binnen 2 jaar. Daarna is een upgrade ook mogelijk, maar dan weer met opbouw van nieuwe servers en migreren van mailboxen.
Indien er gebruikt gemaakt wordt van Hybrid Exchange, is het goed om eens te kijken naar de on-premise Exchange server versie. De mainstream support van Exchange 2016 eindigt op 14 oktober 2020. Er zullen nog wel updates uitkomen, maar advies is om te upgraden als er voor langere tijd nog on-premise mailboxen aanwezig zullen zijn.
Exchange Mailbox Role Calculator zal niet meer meegeleverd worden op de DVD/ISO download, maar kan los gedownload worden.
De nieuwe Exchange Admin Portal
http://admin.exchange.microsoft.com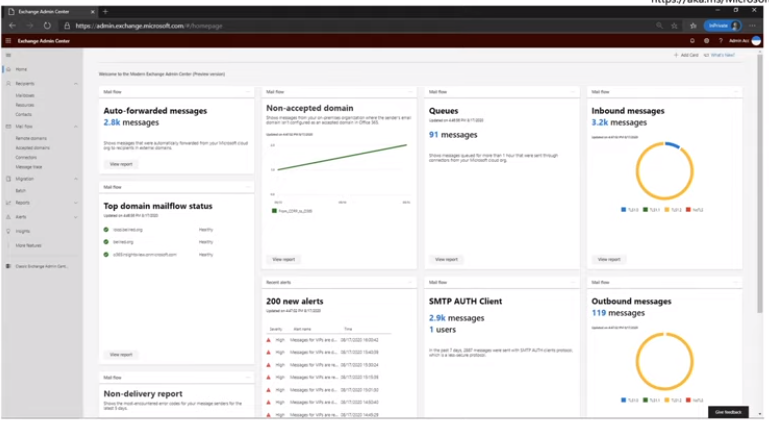 In het nieuwe Exchange Admin Center is het mogelijk zelf een dashboard aan te maken en bijvoorbeeld de mailflow inzichtelijk te maken. Daarnaast is het management vereenvoudigd. De opbouw is gelijkend aan de admin portal van Office 365. Het is nog niet helemaal af, maar als beheerder kan je hier al wel gebruik van maken, door het bekende schuifje om te zetten op de huidige Exchange Admin Portal. Microsoft verwacht dat de nieuwe Exchange Admin Portal in Q1 2021 klaar is.
Hybrid Exchange naar meerdere tenants.
Het was al mogelijk om manueel een verbinding te maken tussen een on-premise Exchange naar Exchange Online, maar deze was ingewikkeld. Door ondersteuning in te bouwen in Exchange 2016/2019 wordt dit een stuk gemakkelijker. Ook zijn er veel ontwikkelingen voor multi-tenant beheer en samenwerking tussen tenants.
Powershell Exchange V2 Admin
Powershell V2 Admin voor Exchange, ook vorig jaar aangekondigd, maar nu volledig in gebruik.
• 9 remote powershell commando's zijn geoptimaliseerd voor bulk acties.
• De oude Cmdlets zijn er nog steeds.
• Modern Authentication wordt standaard ondersteund.
Er is een Linux en Powershell Core preview voor de EXO V2 module. Dus beheer vanuit een Linux omgeving is hierdoor een mogelijkheid.
Plus Addressing in Exchange Online
Ook een aankondiging van Ignite 2019, maar wordt momenteel uitgerold naar alle tenants. De verwachting is dat dit in oktober overal uitgerold is. Hoe dit werkt en wanneer je dit wilt gebruiken zal ik in mijn volgende blog toelichten.